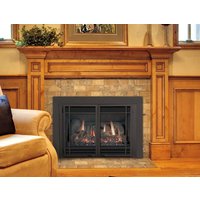 Depending on where you live, a wood burning fireplace may be a nice addition to the home or it may be an important source of heat when the power goes out. It can also be an excellent option to help to keep high heating bills low and, even in the southern part of the country, it can be a welcome addition on those chilly spring and fall evenings.
Regardless of why you want to have a wood burning fireplace and how often you will use it, there are some important considerations to keep in mind. Anytime you have a controlled fire in the home, choosing a top manufacturer for your wood fireplace or wood fireplace insert should be a priority.
Safety Features
The new styles of wood burning fireplace inserts and models on the market today are much safer than the old styles of open fireplaces. They are designed to burn cleaner and more efficiently, helping to reduce smoke and to also reduce the risk of any smoke or by-products from burning entering into the home.
The glass doors, which are a specialized pyro-ceramic glass that can resist any heat levels from wood combustion, block smoke, ash and cinders from getting into the room. This was always a very big risk with traditional fireplaces and the reason that hearths were so large. The big area of non-combustible materials helped to reduce the risk of fire and new designs completely eliminate it.
Zero Clearance
A zero clearance wood burning fireplace is specially designed to require no additional space around the exterior of the fire box and the walls. Built with insulation inside to keep the exterior cool, these fireplaces are smaller and don't require the large hearth and chimney area, fitting into much smaller rooms and matching the decorating style.
Also, be sure to talk to your dealer about the size of the wood burning fireplace based on your heating needs. A larger and more efficient system is ideal when the fireplace will be used in a large room or for more than just secondary heating of a home. Variable speed circulating fans will also be essential when the fireplace has more than a minimal heat production requirement.
Choosing the right wood burning fireplace means taking your time to learn about the models, features and designs available. New styles range from the very traditional to the sleek and modern, so doing your research on different options is important.
At Kozy Heat, we offer different wood burning fireplace models for any home or commercial building.