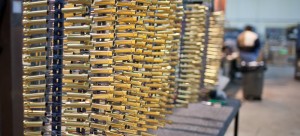 There are many different metal finishes and platings used in industry today. Powder coating is becoming commonplace as many businesses are seeing the benefits. However, with modern technology also comes the need for specialty coatings, and they can provide a number of advantages.
Nickel Boron
For many years, companies like Bayer and DuPont invested a lot of money, to find a way for using nickel boron to replace hard chrome. However, it never worked out until Secoa Technologies came out with Diamonite.
For a long time, nickel boron was a viable alternative to hard chrome but the cost prevented it from seeing wide scale usage, except in the aerospace industry. However, the cost of manufacturing hard chrome continues to rise and nickel boron does not require machining afterward. This makes nickel boron a cost effective option. Diamonite has three major performance advantages:
* Resistance to wear and tear – Diamonite is more resistant to wear than hard chromium. In fact, it tests as much as three or four times more resistant.
* Lubrication – When two surfaces treated with Diamonite come in contact with each other, drag is greatly reduced. This creates effective specialty coatings for oily environments. In fact, the coating will absorb some of the oil and always maintain lubricity. In start and dry run conditions, this is an ideal scenario.
* Hardness – Diamonite can be as hard as hard chrome when applied properly. Plus, it resists becoming brittle, and when placed on strong steel, is non fatiguing and very durable.
Firearms Plating
Nickel boron is commonly used for high quality firearms plating. These finishes provide:
* Durability against external surfaces
* Less wear on moving parts
* Better lubrication
Using a hardcoating or hard anodized process, materials can be produced which are longer wearing and less resistant to corrosion. In some cases, metals like aluminum can be given the strength of steel (without the corrosive properties). There are other uses also, like:
* Vibratory burnishing – using specially coated pieces in a container or tub, materials can be vibrated to burnish, de-burr, clean, and de-scale. This can be done on a large scale for industrial applications.
* Abrasive blasting – this process is similar to sand blasting, for cleaning parts and making them suitable for coating or finishing.
* Centrifugal polishing
* Shot Peening – metals are bombarded with small particles made from ceramic, to enhance surfaces in a variety of ways.
When it comes to specially coatings, experience matters a great deal. When you select a company like Secoa Technologies, you receive expert advice and quality workmanship, with innovative solutions for your plating and finishing needs.
Whether you need top quality powder coating or a variety of specialty coatings, you can depend on Secoa Technology. Visit us our home on the Web today at www.secoatech.com for more details.