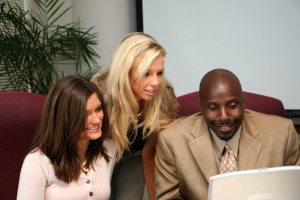 Perhaps more than ever small business owners, home business owners, entrepreneurs and those with startup companies are bombarded with information on upcoming business tradeshows, conferences, and events.
Sorting through which business conferences to attend and which to pass on can be difficult if you aren't considering the big picture. Understanding why you are choosing to attend the event, or why you think a conference is essential, is the first question to answer. With this reason in mind, you can then compare conferences and discover which is best suited to getting the answers, the information or the opportunities you are looking for.
Live or Online
Webinars, online tutorials, online classes and even just watching YouTube videos are all options if all required is basic information. However, there are limits to the impact and effectiveness of online training. For one, you can't spend time interacting with others in the "training". In fact, you probably won't even know if there are others watching the same information as you are.
In addition, attending live business conferences allows you to interact with others in the area. You can brainstorm issues, discuss challenges and build networks with real people and real business professionals who are going to form a network of support and services for each other in the future.
Local or National
Small Business Expo is one example of a company taking a national level or quality of business event and bringing it to a local level. They create 10 locally hosted small business centered tradeshows in major cities across the United States on an annual basis.
This means the quality of main stage speakers and organization is what you would expect from a national conference, but the content, the business connections, and the people in attendance are more local and regional. To top this off, they provide free attendance for small business owners, really adding to the perks.
Sales Focused or Learning Focused
Some small business conferences are really all about marketing. This is an important part of these tradeshows as those with booths and displays want to be able to promote their companies, services and products.
However, this is really only a part of the big picture. A top conference will also provide attendees with a chance to learn more about a range of different small business challenges. They will also have opportunities to speak with each other, network, and create those professional relationships which make small businesses even stronger.