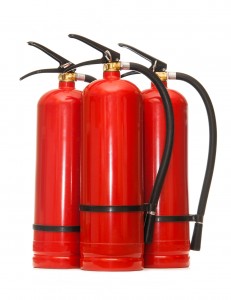 Whether you're an employee or the owner of a business, it is vital to know what fire protection equipment is available and how it functions in an emergency. Different types of systems offer varying degrees of protection. Depending on the type of facility, certain types of fire protection equipment might be necessary, in some cases even required by law in Louisville, KY.
There are three types of fire systems.
Smoke, heat, and carbon monoxide detectors
The first type uses smoke, heat, and carbon monoxide detectors to detect a fire or poisonous gases and then sounds an audible bell siren to alert occupants. One of the most important features of this type of system is that it is a monitored system. This means that when these devices detect a problem, they let the alarm Central Station know, which in turn dispatches the fire department automatically. Without monitoring, a fire could break out when no one is on site, and no one would know until too late. The second most important piece of this type of system is making sure you have adequate protection. Professional fire alarm installers can help guide you through this process to make sure all areas are covered.
Sprinkler and riser connections
The second type of fire alarm system connects to the facility's sprinkler system. When the sprinkler valves trip on, the fire alarm system senses this and sends an alarm. The physical connection to the sprinkler system or riser is a simple setup but can save thousands of dollars in damages in case of a fire or even just a malfunctioning sprinkler system.
Evacuation systems
The third type of fire alarm system is a full evacuation system. Evacuation systems help alert occupants in the facility with horns, flashing strobes, even speaker systems. They also typically include fire pull stations located around the facility near exits. These allow occupants who spot a problem to sound the alarm to alert others in the facility of the danger.
If you're a small office in Louisville, KY, your business might be fine with a simple smoke detector system. If your building has a sprinkler system, it's always a good idea to have this monitored as well. If your facility is a larger warehouse or a multi-floor building, installing a full evacuation system might be necessary. Learn more about quality fire protection equipment by visiting the Sonitrol website to find out what would best suit your needs.