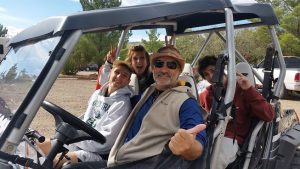 Are you looking for a unique activity to enjoy with your friends this weekend? Do you all enjoy the same passion for the great outdoors? If you want an opportunity to enjoy the stunning beauty of the mountains or fishing in isolated areas near a river. You should consider one of the Sedona off-road adventures that offer endless possibilities. A self-guided tour that can be accessed only by an ATV that you can rent for to enjoy the weekend outdoors unwinding with your friends.
Benefit of Riding an ATV
The primary benefit of partaking in a Sedona off-road adventure is the ability to travel a land that is not accessible by foot or automobiles. Untouched land that provides a tranquil environment to help everyone unwind and relieve stress from their everyday life. ATV offers the freedom of being able to explore the land and find breathtaking destinations in the area to enjoy. With the expansive land that can be traveled by all-terrain vehicles, you can always discover something new whether this is your first venture together or multiple visits to relish in the secrets that nature holds. You can enjoy the canyons or select to travel along the river to find the adventure that you and your friends are looking for.
Make the Most of Your Journey with a Pre-Selected Tour
Vortex Healing ATV Rental offers their clients a unique experience by providing them maps of popular trails that offer plenty of adventure. You can book ATV rental to explore the land for a few hours or spend the day making the most of your venture with your friends. You can choose between two-person ATVs to six-person all-terrain vehicles to fit your parties needs and to ensure everyone has an enjoyable time.