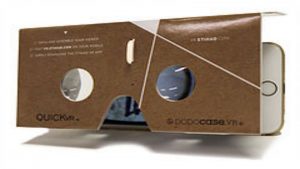 If you're a technology-centered person, you've no doubt heard of the Oculus Rift or another virtual reality viewer. As much as you appreciate the new tech, however, you may not have the cash to dish out for a VR viewer that sophisticated. If this is the case, you're in luck! You certainly don't have to have an ocean of spare money to enjoy the basics of virtual reality. In fact, you may already have everything you need!
Recycled Technology
To make your own virtual reality viewer to enjoy VR-enabled apps on the Google Play Store or Apple Store, you'll need the following:
1. A Smartphone: You probably already have one! If you don't, someone you know surely does. This is the highest form of technology you'll need to enjoy your VR experience.
2. A Virtual Reality Viewer: This includes both lenses and a device in which to mount your smartphone. The device itself can be made of something as simple as cardboard, while all you really need for lenses is a clear plastic bottle.
3. Materials To Put It All Together: With glue, scissors, an Exacto knife, quick-dry epoxy, and some Velcro, you'll be well on your way to holding your new virtual reality viewer together.
An Inexpensive Alternative
If you lack the creative skills to make your own viewer, or if you don't have the materials at hand, you're still not out of luck! Making your own virtual reality viewer won't result in the most sophisticated VR experience, but it will be entirely sufficient to appreciate some of the simpler apps on the market.
Otherwise, if you have a smartphone but don't want to make your own virtual reality viewer, you can purchase an expertly made paper virtual reality viewer for as low as $15. Once it's equipped with your smartphone, you'll be ready to go and enjoy a whole new, virtual world.