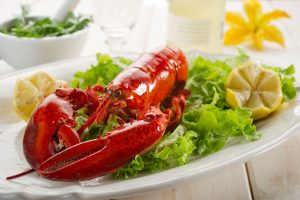 If you live in one of the United State's 16 landlocked states, getting fresh seafood may be an expensive luxury. Maybe you've never had the chance to taste buttery, rich lobster, or feast on tender scallops fresh from the coastal waters of Maine. Before you plan your vacation to the Northeast, there's a simple way to taste these delicacies for yourself: by ordering online. There are a host of benefits associated with ordering seafood online, such as:
convenience of delivery

cost alternative to trips

fresh from the Northeast coast

a fun dining experience
Let's take a closer look at a few of these benefits.
The convenience of delivery means you don't have to wait in line at a grocery store for subpar seafood, and you don't have to pay a premium for lower quality food. Your live lobsters, shellfish, or scallops come packed in ice and seaweed for ultimate freshness, delivered right to your home.


Vacations are exciting, but the hassle of traveling can be far from relaxing, and the cost of hotels, rental cars, and activities can be very expensive. With online ordering, you can get a taste of the Northeast coast at a fraction of the cost of a vacation. Plus, you don't need to leave the comfort of your home, and you get to save the leftovers for another delicious meal.


Another reason to order fresh seafood online is that it's just plain fun. For the adventurous eaters among us, trying new foods is an exciting experience, and having the opportunity to cook your food gives you the chance to learn more about a different lifestyle. You might even pick up some New England techniques when it comes to eating lobster.
Ordering seafood online can seem like an intimidating process, but with the convenience of overnight shipping and fresh packing, you too can taste a bit of the Northeast coast for yourself.